October 1, 2005

I started my Wynonna day at 2:30am when I got out of bed to get ready for the 480 mile trip on my Wynonna adventure! I can't say enough! I left home at 3:15am and picked my mom up at 5:00am. The drive is always so gorgeous in NWA and we arrived in Springdale, AR at 7:30am. We were the first one's there. My mom and I sat in my car for a short bit, and then decided to go stand at the front door of Sam's before they were to open at 9:30am. We did, and were the first ones in line. Shortly after, a few of my friends started to arrive. We all talked, laughed and were having a great time.

The doors finally opened at 9:30am and we went in and Wy's autograph table was right inside the front door. Of course, we were the first in line and made ourselves at home. We stood in line at Wy's table from 9:30am-12:30pm when Wy arrived. During our wait, we all talked, laughed and cut up and it was great! Sam's Club finally started playing Wy's DVD on the TV's all around, so that was cool! While in line, the folks helping with the signing tried to keep everything organized as more, and more people kept coming in and getting in line. It was a great experience and I'm so glad it was organized. Everything went smoothly! At first, the line was short for about the first hour or so. Then the line began to stretch around through the store as the time neared for Wy's arrival! We put sticky notes in our books and on our DVD/CD's so Wy would know who to sign everything to and spell everyone's name correctly. It was great! (Of course, Wynonna knew my name ahead of time). :)

Finally it was time for Wy to arrive, and as she was escorted to her table, I started the applause and the welcome screams and etc. Wy was surrounded by security and Wy waved and smiled, as she made her way to her table. She was dressed in a sparkling black outfit with a matching black neck tie, and high-heeled boots. I believe this was the same outfit Wy wore on Oprah last week. It's HOT! Wy's hair was rockin' and her outfit was kickin'! She looked FABULOUS! She took my breath away!

She did a quick interview and then began signing autographs and taking pictures with EVERYONE there! Wy doesn't like to sign her name without personalizing everything, so she personalized everyone's autograph using her music notes, and cross symbols! It was awesome! Wy is the best! I was first in line so I gave Wy a note and card and we began to talk. When Roach handed her my book she saw my name and said, "Lee! I know Lee! Come over here baby!" :) We talked, and Wy told me she would read my card on the plane Saturday night going home. Wy was absolutely gorgeous! Wy is so sexy in person and it's true, Wy is so much slimmer in person than what TV makes her out to be. She was HOT!

She signed my book and cd, and then we posed for our photo. I sat on the edge of the table where Wy was and Wy stood up and got right next to me and leaned in for our photo as she put her arm around me. After my picture with Wy, I stood around and took more pics of Wy before we left. Then we all headed over to Bentonville, AR for the second book signing. We were still within the first 25 people in line, but once again, the line grew FAST as the time got closer for Wy's arrival. Of course, Roach,(Wy's husband), joked with all of us because he had just seen us at the first signing. Roach is very nice in person in case you all didn't know that! He knew all of us there already, just like Wy did! It was so awesome!

Wy finally arrived once again(both times Wy was only about 5-10 minutes late due to traffic). She didn't keep us waiting! Wy started signing and when it came my turn once again she said, "It's Lee again! Come over here my friend." She signed my DVD this time and signed it, "To Lee, I love you too; Love Wynonna." It's awesome! We all had the BEST time of our lives seeing Wynonna! She was gorgeous, sexy, funny, and was loving ALL the fans that came out to see her! Yes, it was one of the BEST Wy experiences I've ever had as well! THANK YOU WYNONNA FOR COMING TO ARKANSAS!

I finally got back home at 8:30pm, my ass WAS tired!



Here are my pics; enjoy!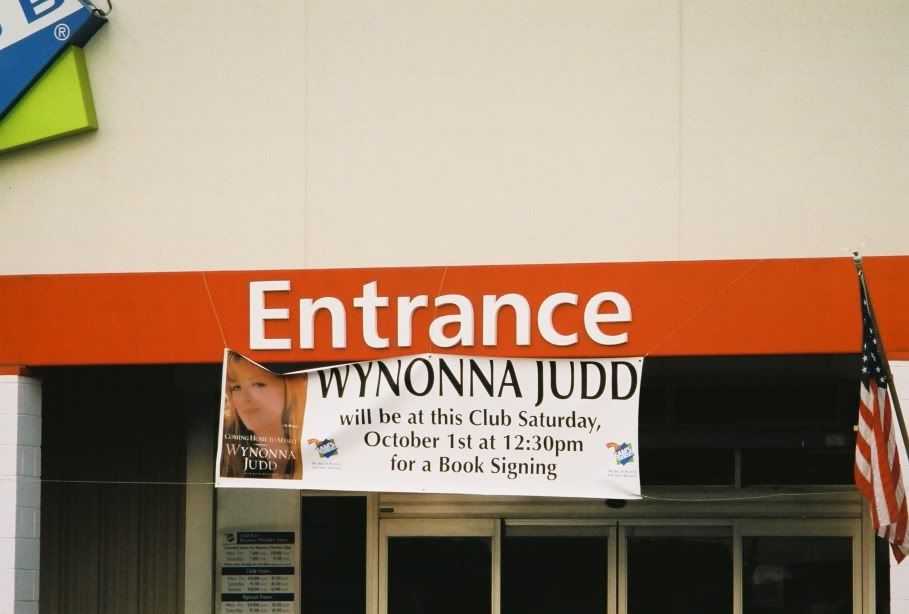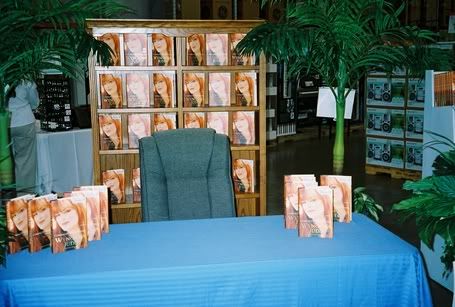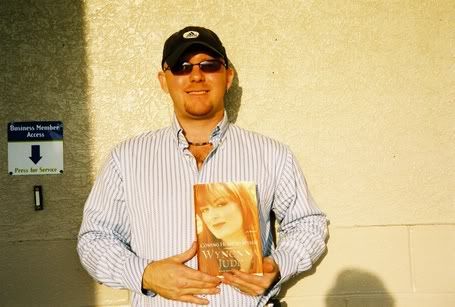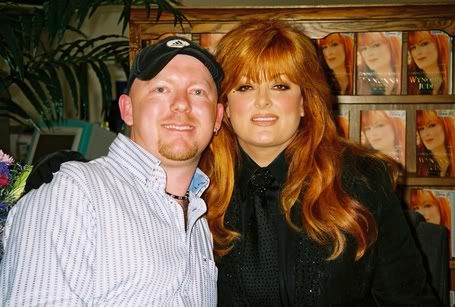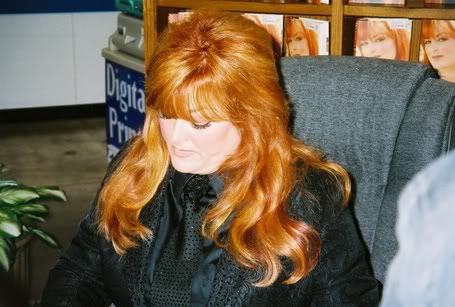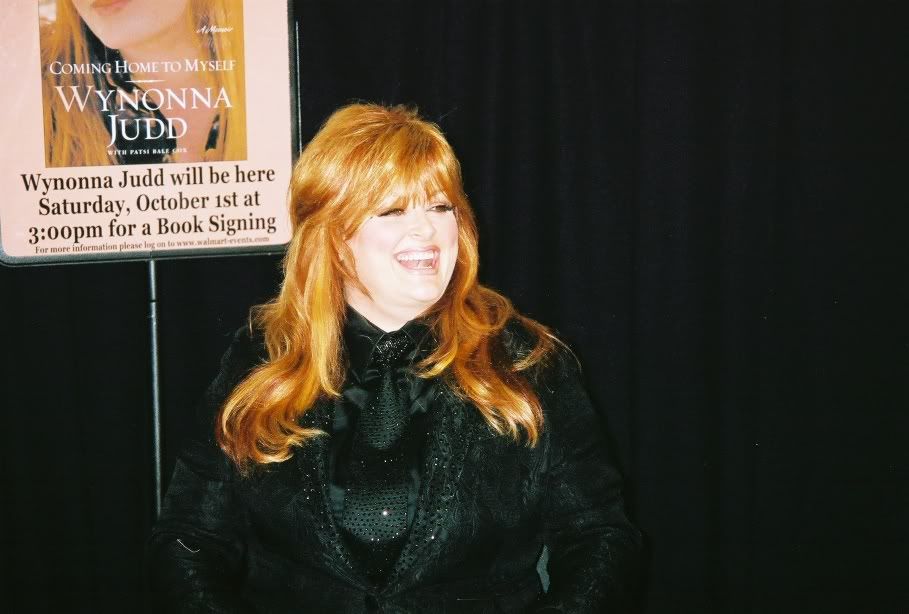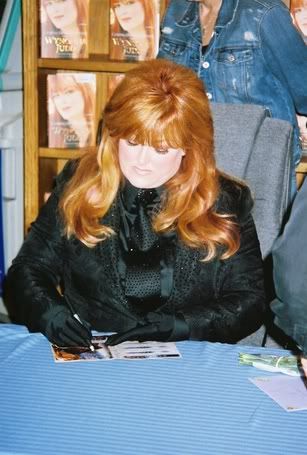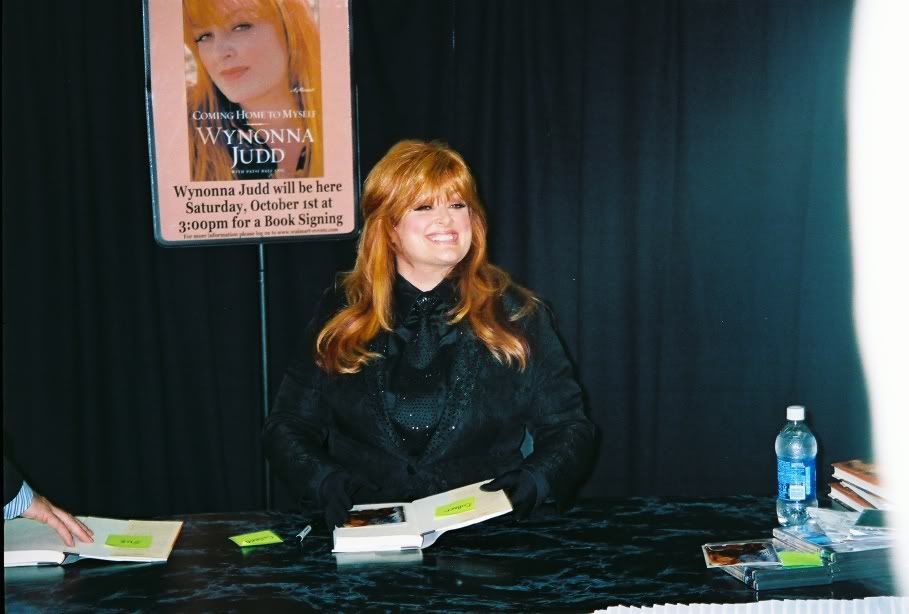 THANK YOU WYNONNA FOR COMING TO SEE US IN ARKANSAS!

Love ya, Lee